18 May – 2019 23:00 – 07:00,  Club 414, Brixton
After the massive success of our first two BUZZ parties, we're back at 414 and are very pleased to welcome Goochie Vix & Dinyel (More Pussy 3mpire) as our guest DJs. Gal collective, MP3 can be found hosting regular parties in their hometown, London and making appearances at underground nights in Manchester and Sheffield. You can catch them on 10 Twenty Radio on the first Friday of every month. What can you expect from MP3? A unique fusion of heavy bass, eclectic beats and energetic vocals.
Residents Amber A (Tetrachroma), OPGroover, PuttyRubber and Hyer Power will be giving you more of what you love; expect heavy breaks, feel-good house, hypnotic techno, and more than a dash of acid.
As always, a percentage of your money will go to The Bumblebee Conservation Trust to support their excellent work. #savethebees
Here are the recordings so you can listen again: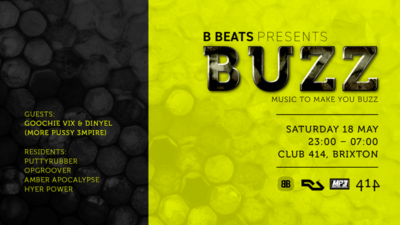 Club 414
414 Coldharbour Lane
Brixton
London SW9 8LF